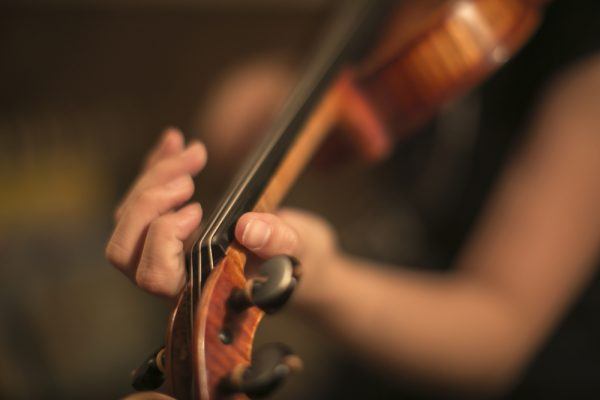 OUR INSTRUCTOR – ALLYN LYON
Mr. Lyon developed his love for music early on in life. He grew up in a musically inclined family. Both his grandpa and father taught orchestra and choir, making Mr. Lyon a third-generation orchestra teacher! Mr. Lyon has done a lot in the world of music. He has had compositions published and collaborated with "Star Wars Live" as their choir director. He has composed and orchestrated for movie trailers and has been commissioned to write music for the SUU communications department.
Mr. Lyon's favorite part about teaching is working with those who want to learn a new instrument and when they can see the results of their hard work themselves!
He has been teaching at Providence Hall for several years now but has been teaching privately and publicly for over 10 years. He received his bachelor's in music from Snow College and Weber State University and then received his master's in music technology at Southern Utah University.
OVERVIEW
Each orchestra program has unique qualifications and objectives that students are expected to accomplish. There are also two junior high levels available to help prepare students for high school orchestra. Jr. high students should consult with their counselor and Mr. Lyon if they are interested in these classes. Along with essential orchestra techniques and skills, students will learn to compose, the musical effects on emotions, music theory, scales, aspects of musical science and math, and how to develop an ear for music.
INTERMEDIATE ORCHESTRA
This class is designed specifically for students who haven't played in an Orchestra previously or have taken a break and want to come back and redevelop their skills. The main objective of this class is to assist students in transitioning to a more advanced repertoire. We love to see our students use this class to prepare them to audition for the advanced high school group.
ADVANCED ORCHESTRA
The advanced orchestra class is for students who are well-seasoned violin players or who have prior experience playing violin. Typically a student who has taken a year of intermediate orchestra at Providence Hall and worked hard will be experienced enough to take the advanced orchestra class.
WHAT ARE THE REQUIREMENTS?
We want to see each of our students succeed and develop their talents. There are several requirements that a student must meet to excel in our orchestra programs at Providence Hall.
At the beginning level, students must state which instrument they would prefer to play.

Students will need to provide their own musical instruments. Summerhays and Day Violins are two local places we recommend shopping from!

Students are encouraged to practice at least a half an hour every day.
CLASS CULTURE
Our Orchestra classes maintain a culture of respect for students and their instruments. The classroom is a safe space to make music and all students should honor each other's opinions and how they can learn from their peers. We ask the students to respect the facility and take care of their instruments. We know that if this culture is upheld, that students will be able to grow and learn quicker in the world of music.
ORCHESTRA OPPORTUNITIES
Orchestra provides many opportunities for students that go beyond the Providence Hall Campus. Every other year, the high school orchestra has the opportunity to go to a fun place to learn and perform while on tour with the school's fine arts department. We've also taken field trips to see the Utah symphony rehearse. Special guest professional players and instructors are invited to classes to give outside perspectives on orchestra music.
Previous orchestra classes have participated in various regional, state, and festival competitions, winning first and second placements.
CAN'T WAIT TO JOIN ORCHESTRA?
We'd love to have you join our program at Providence Hall. Talk to your parent or guardian and the school counselors about adding an Orchestra class to your schedule.