High School Drama Program
OUR INSTRUCTOR—JON LIDDIARD
Mr. Liddiard has 25 years of acting experience, having performed in Idaho, Colorado, California, West Virginia, New York City, and Scotland. He has received degrees from multiple institutions: a Bachelor of Fine Arts from Brigham Young University, an Associates in Theatre from Utah Valley University, and a Masters in Fine Arts from the University of Tennessee in Knoxville. He loves teaching theater and the opportunity it has provided him to connect with other people. He learns so much from his students and loves telling stories that can influence others' lives.
THEATRE 1
Prerequisites: No previous experience is necessary.
Class Description: Students will learn to perform in front of their peers, gain experience as a theatre practitioner, and learn to work collaboratively. The course will include pantomime, improvisation, characterization, play reading, mask, scene work, radio plays, playwriting, voice projection, diction, and puppetry.
Fee: See the Fee Schedules.
THEATRE 2
Prerequisites: Theatre 1 OR Audition.
Class Description: Students will learn through activities, assignments, and performances how to effectively use their voices and bodies to create character through scene and monologue work. Students will also explore theatre history, Shakespeare in performance, character movement, monologues, makeup, dialects and ensemble work.
Fee: See the Fee Schedules.
ADVANCED THEATRE
Prerequisites: Theatre 2 AND Audition
Class Description: Students will learn advanced performance and ensemble acting techniques through public performance and competition. Students will be expected to attend Shakespeare, Thespian, Region and State competitions. During the year students will learn about directing, performance theory, ensemble work, devised theatre, world theatre traditions and theatre History. It is expected that students will spend time outside of class rehearsing, performing, competing, writing and researching.
Fee: See the Fee Schedules.
THEATRE PRODUCTION
Prerequisites: No previous experience is necessary.
Class Description: Students will learn the basics of theatre production including how to use tools and technology to create costumes, sound, lighting, scenery, makeup, stage management and video projections for theatrical performance. They will also be introduced to the fundamentals of the many different aspects of theatre from around the world. Students will be trained to safely work within a technical theatre environment and are REQUIRED to work on productions after school and outside of regular class-time instruction.
Fee: See the Fee Schedules.
FILM PRODUCTION
Prerequisites: No previous experience is necessary.
Class Description: Students will learn through film analysis and practical experiments the fundamentals of film making and critique. Students will work directly with digital cameras, microphones, editing software, and lighting equipment to produce a 5-minute film during the semester. Class projects will include cinematography, screenwriting, editing, lighting, sound, stop motion animation, art direction/design, and special effects.
Fee: See the Fee Schedules.
RADIO PRODUCTION
Prerequisites: No previous experience is necessary.
Class Description: This is an introductory radio broadcasting course that combines common techniques used in radio, podcasts and sportscasting. Students are required to develop communication skills and practice developing stories by interviewing subjects. Students have the opportunity to practice proper diction and pronunciation, examining how different styles convey a different feel. In addition to honing their radio personalities and professionalism, students begin planning radio shows/podcasts that cover politics, sports, music, personal stories, radio plays, and human interest. Candidates are required to attend a specified number of after-school performances and school games and create audio/radio reports for them.
Fee: See the Fee Schedules.
WHICH GRADES CAN PARTICIPATE IN DRAMA?
Students in all high school grades (9-12) are welcome to participate.
HOW MANY PERFORMANCES WILL THERE BE EACH YEAR?
Every fall, we do a non-musical play. We typically alternate between a Shakespeare play and a modern play. Every spring, we do a musical. We also participate in multiple competitions every year: Shakespeare Festival, Region, and State.
WHAT ARE SOME OF THE LIFELONG SKILLS THAT DRAMA TEACHES STUDENTS?
Students will learn the ability to communicate their thoughts. They'll learn to understand how they think, how they perceive the world, and how to talk to people that might not think the same way they do. They'll learn empathy, how to execute a plan from start to finish, and how to work as a team.
CAN STUDENTS GET SCHOLARSHIPS FOR PARTICIPATING IN DRAMA?
Absolutely! We've had multiple students in the past get scholarships for winning awards at the competitions we've attended.
DO STUDENTS GET TO TAKE ON LEADERSHIP ROLES?
Yes! In our program, students have the opportunity to influence what we do and how we do it. This is true for all students who are acting, working on film, or designing sets and stages.
"If [students] are interested in theatre arts, they will have a home and an opportunity to work and do things."—Mr. Liddiard.
WHAT CAN STUDENTS DO TO SUCCEED IN THIS PROGRAM?
First, have a desire to learn. Second, have an excellent attitude, and be willing to play well with others. If you have a passion for what you're doing, are respectful of other people, and listen to your class, you should do well in the program. Just bring your best work, expect the best from each other, and be willing and ready to listen and learn.
Here is what two of our 2019-2020 drama students have to say about succeeding in drama:
"It's really hard, but let go of petty things…You have to be interested not only in your own growth but the growth of your peers, and you have to be supportive through everything that's going on." —Lenna B.
"Come to theatre with an open mindset that you're not always going to get everything you want but always try your best to get what you want but be accepting of others who may get it." —Dakota D.
AWARDS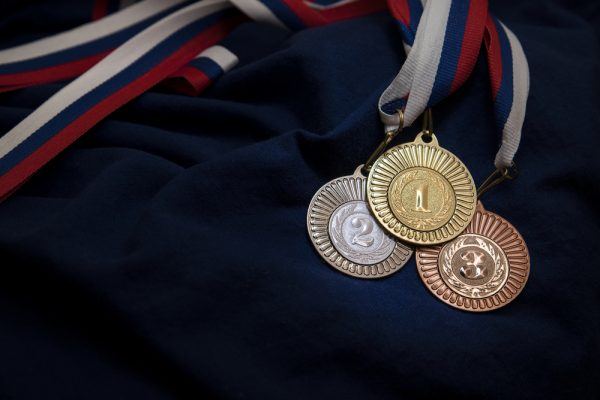 Shakespeare Competition at SUU
1st Place Scene with a $1000 Scholarship, 2017

3rd Place Monologue, 2019

Larry Lott Award , 2017
Region Awards
1st Place Monologue, 2017

1st Place Classical Scene, 2019

2nd place Contemporary scene, 2019

3rd Place Team, 2017

3rd Place 1-Act Play, 2017

3rd Place Musical Theatre , 2018
State Awards
1st Place 1-Act, 2017

2nd Place Contemporary Scene, 2018

2nd Place Contemporary Scene, 2019

2nd Place Contemporary Scene, 2020

3rd Place Contemporary Scene, 2016
READY FOR DRAMA?
Are you ready to join us and perform? We'd love to have you in our program! Discuss your interest in participating in drama with your parents and school counselor. Our drama classes are a great opportunity to make new friends and discover new talents! Also, feel free to talk to Mr. Liddiard if you have any questions.