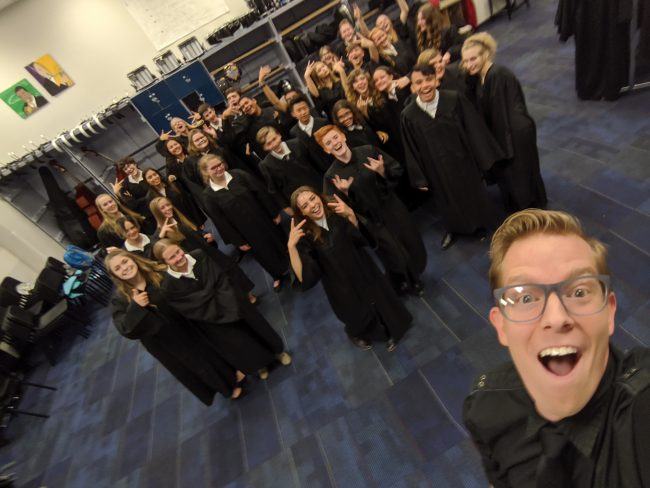 OUR INSTRUCTOR – MATTHEW HENRY
CONCERT CHOIR
This is our entry-level choir program for grades 9-12 and sets the foundation for reading music and learning how to sing. All students are welcome, and there are no auditions. As part of the curriculum, students will learn how to read notes (including treble and bass clef), identify rhythm, and sight sing.
BEL CANTO
This is our advanced choir program that represents Providence Hall High School at big performances and competitions. Students must pass a simple audition to be invited to join Bel Canto. Although students from grades 9-12 are able to audition, we like to see students take at least a year of concert choir prior to advancing to this level.
In Bel Canto, students should expect to jump into the music on day one. Our first event of the year is the Shakespeare Festival competition in September, so we'll have only a month and a half to prepare ourselves. We learn a lot of music, and we learn it quickly! The overall goal is to help students further their musicality and to help them become more confident individually and as a group. They'll be given the experience to learn and grow in this regard through performances and competitions.
HOW ARE STUDENTS GRADED?
A student-graded rubric system is used. Students are given a rubric to fill out daily where they can check off the skills they're learning. When they hand in their rubric after two weeks, they'll assess what they've learned and how much effort they put into practicing. The teacher will then take their self-given grade into consideration as he puts in grades, moderating when students may have given themselves too high or too low of a score.
WHAT ARE THE FEES?
See the Fee Schedule.
HOW MANY PERFORMANCES DO OUR STUDENTS GET TO PARTICIPATE IN?
Concert Choir: Students participate in four performances at our school's quarterly concerts. These happen in October, December, March, and May. Students may also attend the biennial Performing Arts Tour.
Bel Canto: Students participate in the same four quarterly concerts listed above for the concert choir class. They also get to participate in the Shakespeare Festival and our school's performance arts tour every other year as well as perform at the Festival of Trees and other performances our school participates in.
WHAT IS OUR CLASSROOM CULTURE LIKE?
In our choir, everyone is welcome! We strive to build a community-like feeling where each individual can feel like they're part of something at our school. We want each class to feel like a team and for everyone to have a sense of comradery—working together for the same goal.
Everyone has a part to play in every performance and rehearsal, and every voice is needed. When a student comes into this class, they should know that it is a safe place to be. Here, they can take risks—like trying out for a solo, singing a wrong note, or making mistakes.
CAN I JOIN CHOIR IF I DON'T KNOW HOW TO SING?
Our entry-level choir program is the perfect class for students who want to learn how to sing. You'll learn through breathing and vocal exercises that will help you learn how to match pitch and carry a tune.
READY TO JOIN CHOIR?
Do you feel ready to have your voice heard? To be apart of a group of people who will be there for you, help you grow, and cheer you on as you improve your vocal skills? Well, our Providence Hall High School choir is ready for you! Please talk with your parents and school counselor about joining our program.