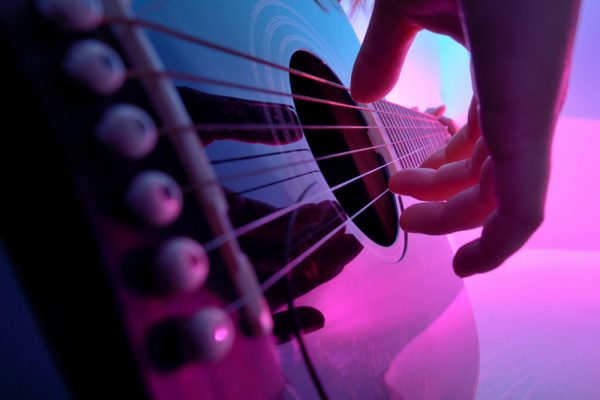 OUR INSTRUCTOR – SARAH PALMA
Ms. Palma has been playing the guitar since she was seven years old and has had years of professional experience. Growing up, she was classically trained and has studied with well-respected and widely recognized instructors. As a high school student, she performed in Jazz Band and Guitar Ensemble. Upon graduating, she attended the University of Utah where she earned a degree in Instrumental Music Education, studied guitar performance, and performed in various music ensembles. On scholarship, she studied abroad in Spain and later returned to study flamenco guitar. In addition to maintaining a private studio, she is also the guitar instructor at the Preparatory Division of the University of Utah School of Music. Currently, she teaches four guitar classes at Providence Hall High School and three at the Junior High. Outside of the classroom, she is very active in the local music scene – collaborating with musicians, performing at events, formal concerts, studio sessions, and other functions.
GUITAR I
This class is more accelerated than the junior high Guitar I class and includes more performance opportunities.
What You Will Learn:
Standard notation.

Basic chords and scales.

How to play in an ensemble setting.

Various classical and contemporary genres.

Perform for judges at Region and State Festivals, receive feedback and ratings.
GUITAR II
In this class, students will have more performance opportunities and will explore more advanced skills and techniques.
What You Will Learn:
Additional scales and chords, including bar chords and arpeggios.

Intermediate techniques and skills.

Further genre exploration.

Perform for judges at Region and State Festivals, receive feedback and ratings.
GUITAR III
This is an audition-only class that prepares students for Guitar Ensemble. We kind of like to consider it the JV of Guitar. We'll focus on the classical genre and do some beginning exploration into Jazz and Blues. Students will also have more performance opportunities compared to Guitar I and Guitar II.
What You Will Learn:
Major and minor scales.

Arpeggios.

Introduction to Jazz and chord voicing.

Advanced Guitar ensemble repertoire.

Duo and trio work.
GUITAR ENSEMBLE
This course is designed for the most advanced students in the Guitar program at the high school. Students will be studying Classical and Electric styles including Jazz, Funk, and Blues. This ensemble performs at various concerts, events, and festivals throughout the state. Past performances include: the Festival of Trees, Temple Square Christmas Concert Series, University of Utah Classical Guitar Ensemble, Guest Artists with the Murray Symphony, and others.
What You Will Learn:
Scales, Arpeggios, and Jazz Chords.

Advanced techniques and skills.

Classical and electric styles, including jazz, funk, blues, etc.

Opportunities to perform at reputable venues, events, and festivals as a soloist and an
ensemble member.
Enrollment in Guitar II, Guitar III, and Guitar Ensemble is by audition only.
DO YOU NEED YOUR OWN GUITAR?
Yes! Our Guitar I and Guitar II students must all have their own acoustic guitar (classical/nylon or steel string) that they can use in class and at home. Guitar Ensemble students will need three different types of guitars (classical, steel string, and electric), but limited school rentals are available.
TUTORING & OUTSIDE LEARNING
To help students be successful in our guitar program, we have a tutoring program in place. Advanced students have the opportunity to tutor either beginner students or those who need additional help. This tutoring happens twice per week and is also a great way to help advanced students become comfortable sharing their skills.
Students are also expected to practice outside the classroom. For beginners, this means twenty minutes a day, five times a week. Students with more advanced curriculum may be expected to dedicate more practice time.
"Some students will catch on quicker than others, but I have never had a student not succeed who is honestly practicing consistently."—Ms. Palma
PERFORMANCE ARTS TOUR
As mentioned above, guitar students have the opportunity to perform at various local venues. They also have the opportunity to go on a tour with other Performing Arts students every other year. This is an opportunity for students to travel out of state, work with professional musicians, perform, and attend productions. On these tours, students will get to grow their skills, learn about music career paths, bond with other guitar and performing arts students in their program, and more.
EXCITED TO LEARN GUITAR?
We'd love to have you in our program! Talk with your parents and school counselor about including guitar classes into your schedule. Also, feel free to stop by the guitar classroom and talk with our instructor Ms. Palma about the program.