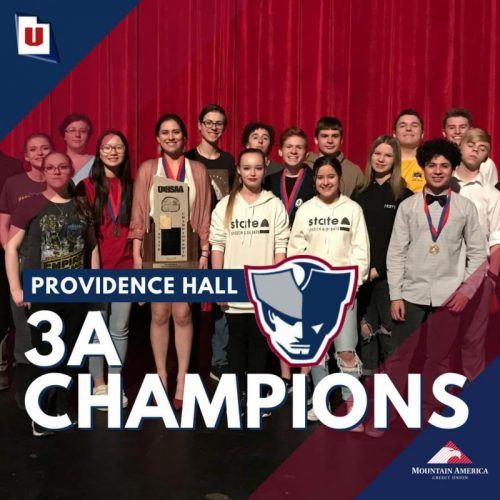 ALUMNI TESTIMONIAL
"Debate prepared me for the adult world in so many ways. More than anything, I feel equipped with the skills to best communicate with my coworkers and I'm always open to seeing both sides of every issue. Debate helped me to understand the world, and it was the best decision I made in school."
– Kyra Silcox '20
OUR INSTRUCTOR – STEVE PORTER
Steve Porter started as the assistant coach and then took over as head coach. He has worked hard to make debate competitive and fun for his students. He has served on the Sundance District Committee, Utah Debate Coach Association Presidency, and has hosted a national tournament.
When he is not geeking out about debate, he enjoys being with his family, reading, and traveling.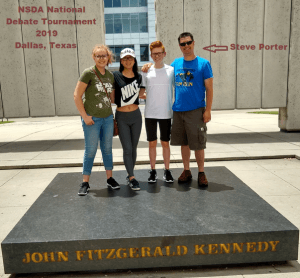 SUCCESS HIGHLIGHTS
19-20 School Year State Champions
18-19 School Year State Champions
18-19 School Year Region Champions (3A District 16)
18-19 School Year 1st place at the Patriot Pride Tournament
16-17 & 17-18 School Years 3rd Place State Champions
20-21 SCHOOL YEAR
STUDENT SUCCESSES
State Champions
McKenzie Capito – Lincoln Douglas

Olivia Smith – Original Oratory
National Tournament Attendees
McKenzie Capito – Lincoln Douglas

Olivia Smith – Original Oratory

Tyler Stevens – Expository

Madelynn Weber – Declamation
Region Champions
Maya Thornell – Impromtu

Olivia Smith – Original Oratory
19-20 SCHOOL YEAR
STUDENT SUCCESSES
State Champions
Monique Cauley – National Extemp

Tanner Christensen – Foreign Extemp

Kyra Silcox – Impromptu

Hailee Martin – Congress
National Qualifiers from the Sundance District
Monique Cauley – National Extemp

Kaydee Jacobsen and Tanner Christensen – Public Forum

Tiffany Chan – National Extemp

Hailee Martin – Congress
Region Champions
Monique Cauley and Kyra Silcox – Public Forum

Tanner Christensen and Carol Contreras-Tellez – Foreign Extemp

Monique Cauley – National Extemp
OUR PROGRAM
The debate program at Providence Hall High School is for students in grades 9-12. Students may participate in the program through our classes, in the after school program, or both! We strive to foster a healthy environment for students of all levels—from novice to varsity. As part of our program, varsity students work with novices to help them learn the ropes of debate. We are proud to provide a program where we look out for each other.
HAVE FUN.
BE RESPONSIBLE.
KEEP LEARNING.
Those are our program's three rules. We hope to keep fun at the center of everything we do—whether we're in the classroom or at a competition. When we compete, we make sure that we get to each round. No matter how hard it gets, we keep on going. We learn to do hard things! We value knowledge and focus on making sure that we learn every single time we go to a debate round.
HOW CAN STUDENTS BENEFIT FROM DEBATE?
Participating in debate can be highly rewarding experience for students! It's a great way to make friends and to have a great discussion with your peers. In the words of Mr. Porter, "You will always need to know how to communicate". Other benefits include academic progress and scholarship opportunities. Students who do debate typically do better on tests and many colleges offer debate scholarships.
DO STUDENTS GET TO TRAVEL FOR DEBATES?
We often travel to other schools around the Salt Lake Valley. If we go to state or national championships, we may travel to other areas of the state or even to other states. For example, we've gone to the state championship in Moab and nationals in Dallas in previous years.
HOW MANY FORMAL DEBATES DO STUDENTS PARTICIPATE IN PER SCHOOL YEAR?
We go to 10 tournaments a year, including National Qualifiers, Region, and State.
WHAT SUBJECTS DO STUDENTS
GET TO DEBATE IN?
The subjects that we cover vary, but we often focus on morality, hypothetical government policies, and mainstream issues. Certain speech events may be geared around motivational speeches rather than traditional debate.
WHAT DO STUDENTS NEED TO DO TO PREPARE FOR THE CLASS?
If students want to join the debate program, the first thing they should do is be aware of what's going on around them. Watch the news, start writing, and learn to have fun conversations with their friends where they can banter back and forth.
WHO BELONGS IN DEBATE?
This is a program for everyone! Just like how the movie Ratatouille's character Gusteau's motto is "Anyone can cook", we believe that anyone can debate. With an experienced teacher and supportive classmates at their side, we believe that any student novice can grow to be a great debater.
READY TO GET INVOLVED IN DEBATE?
Can you see yourself tactfully crafting arguments and digging deep into research topics? If so, it's time to start thinking about joining our debate program. Talk with your parents and school counselor about participating in debate at Providence Hall. We'd love to have you join one of our classes, or even our after school program. Also, feel free to stop by the debate classroom and talk with our instructor Mr. Porter about the program.