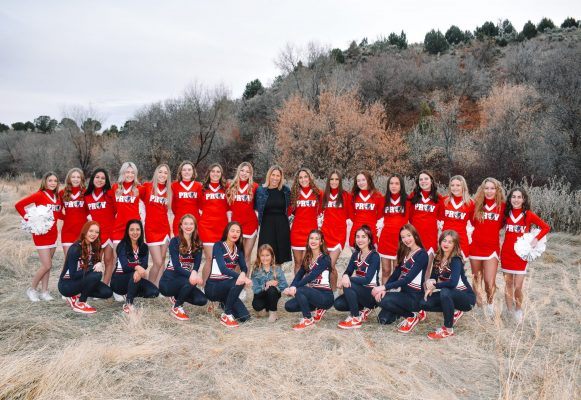 OUR INSTRUCTOR – MELANIE HIATT
Ms. Hiatt has been dancing nearly all her life. At five years old she joined the dance studio that was across the street from her elementary school and loved it. She started cheering in high school and graduated as her school's cheer captain. After graduating, she immediately took over as cheer captain at age 18 and has been coaching in a variety of programs ever since!
Ms. Hiatt has masters degrees in both dance and physical education from the California State University of Long Beach. She has loved having the opportunity to help students learn and grow their skills.
OUR CHEER TEAM
Cheerleaders at Providence Hall are considered leaders. As such, members of the Cheer Team are expected to exhibit characteristics of responsibility, compassion, respect, and enthusiasm. Cheering is about more than talent, it is also about lifting school spirit!
The team is open to grade levels 9-12, and tryouts are in the spring. The team fulfills a P.E. credit. Squad members can expect to learn tumbling, stunting, and other cheer techniques from a basic level up to an elite level. Our team is lucky enough to have a weekly tumbling class at Jolly's, which was created just for us.
WHAT ARE THE REQUIREMENTS?
To help fulfill Providence Hall's Mission and Vision for students to act responsibly, students must meet a few requirements to be on the Cheer Team:
Pass spring tryouts

Adhere to all team codes of conduct

Maintain a GPA of 2.5 or higher

Participate in assemblies or games as required by Ms. Hiatt
Squad members should understand the above requirements and be able to commit to the team for at least one year.
CHEER OPPORTUNITIES
We want our cheerleaders to have opportunities to showcase the skills they learn! Squad members can expect to participate in several events:
Half-time Shows

Sideline Cheering*

Assemblies

Annual Talent Show

Competition(s)
*Sideline cheering includes participation in several sporting events, including basketball, volleyball, wrestling, and football!
3A ALL GIRL SHOW CHEER DIVISION
In only the second year of its existence, the Providence Hall Cheer Team began competing in the 3A All Girl Show Cheer Division! This competition allows the team to compete against other schools in the area, and have the chance to advance from local up to state competition levels or beyond. Entry fees are paid for by the school, but any other fees associated with travel or hotels will be fundraised by the team.
ARE THERE ANY FEES?
See the Fee Schedule.
The Cheer Team requires funding for uniforms, travel expenses associated with competitions, and other materials. Rather than buying new each year, we work hard to keep costs down by having students buy items (such as warm-up clothing or bags) during their first year on the team that they will be able to wear throughout their future years on the team. We also keep costs down by utilizing Ms. Hiatt's extensive dance and cheer knowledge to avoid hiring outside choreographers. Squad members should expect to participate in fundraising for the team. For more information regarding exact costs, please contact the instructor.
READY TO CHEER?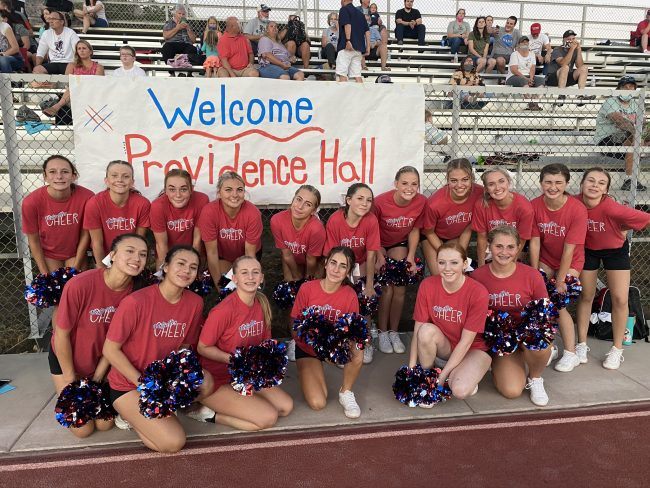 Are you interested in participating in Providence Hall's Cheer Team next year? Talk to your parents or guardians about trying out for the team! Ms. Hiatt is also available and happy to answer any questions you may have. We would love to have you on our team!