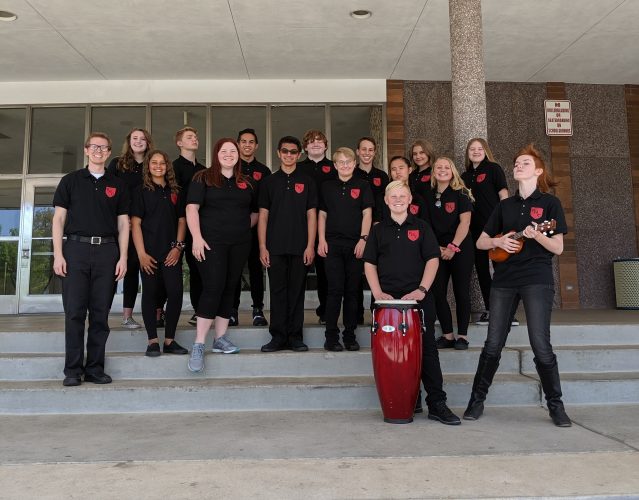 OUR INSTRUCTOR – MATTHEW HENRY
OVERVIEW
Our junior high choir class is currently only available to 7th and 8th grade students. All students within these two grades are welcome whether or not they have a music background. As interest grows, we may include 6th graders in future classes. Each year students will start with the basics so that they can continue to build their foundation in music. Students can expect to learn the following from our curriculum:
Breathing techniques to learn how to produce a better sound with their voice.

Tips to help fight a vocal strain and sing longer as well as healthier.

The fundamentals of reading music
Students will be instructed on how to read music on the paper and then how to sing the music off of paper without a piano. This way, students correctly learn how to read notes, control their voice, and sing.
ARE THERE ANY FEES TO PARTICIPATE IN CHOIR?
See the Fee Schedule.
WHAT IS THE UNIFORM REQUIREMENTS FOR PERFORMANCES?
We keep it simple with a black polo, black pants, and black shoes.
HOW MANY PERFORMANCES DO STUDENTS GET TO PARTICIPATE IN?
There are five performances each year. In these performances, the choir usually sings show tunes and current pop music.
HOW ARE GRADES CALCULATED?
Students are graded mostly on participation. However, there are some rehearsal trackers the teacher uses to make sure they're learning the skills they're required to learn. When it comes to the grade, each day students will grade themselves. Some of the questions that are asked include:
Do you have a pencil with you and strive to make notes?

Do you remember what we learned yesterday?

Are you on your phone during class?

Were you engaged during class?
After students grade themselves, the teacher collects the grades and then submits them.
HOW DOES THE PROGRAM CATER TO STUDENTS WITH DISABILITIES?
When it comes to students with disabilities, our director is dedicated to meeting students where they are and works with them individually to help them succeed. Striving to create an environment where everyone respects and values each other is our top priority. The choir class is a team no matter someone's struggles.
HOW DOES THE CURRICULUM ADVANCE THROUGHOUT THE YEAR?
During the beginning of the year, students start with easy songs and fun tunes to get them excited. As the year goes on, they are introduced to harder music to help them grow in their abilities. Because both junior high and high school classes are taught by the same teacher, the teacher has a complete vision of the program. The goal is to set a good foundation in junior high to prepare students for high school choir and/or to audition for advanced choir.
HOW SHOULD STUDENTS PREPARE FOR CHOIR?
We suggest everyone comes with a desire to learn how to sing! We believe anyone can sing if they take the time to learn. The teacher's goal is to take a student with a desire to learn and teach them how to sing!
HOW DO YOU DETERMINE A VOCAL RANGE FOR A STUDENT LIKE ALTO OR SOPRANO?
Our pianist plays scales up and down on the piano. We have students warm up really well so that their voices are ready to sing. After this, depending on how high they sing or within a certain range, the instructor will suggest a vocal range. This exercise can also help them feel the difference of singing high and low. Then, with his suggestion, each student places themselves where they feel they should go.
WHAT IS THE CLASSROOM CULTURE LIKE?
If you have the desire to sing, you're welcome to participate and we have a place for you in our choir. Having our students feel like they are valued and a part of something is what we strive to provide. Choir doesn't work with just one voice, we rely on all our students' voices to create magic!
We encourage respect and open communication while learning and having fun. Whether a student wants to try out for a solo, accidentally sings the wrong note, or makes mistakes, our classroom is a safe place to be!
JOIN OUR CHOIR PROGRAM!
Do you love to sing? Choir could be an amazing place for you to explore your music talents and gain more self-confidence! If you think you'd enjoy this extra-curricular class, please talk to your school counselor about joining our program! If you have any questions, feel free to reach out to the choir teacher.