Junior High Action & Service
WHAT IS STUDENT ACTION?
Student Action is when a student takes what they have learned from their education and apply it to their community through positive actions. It is our goal to teach our students to be proactive. Instead of sitting and waiting for change, they can take action to uplift the community as a whole. Providence Hall junior high students get to show these actions through a community project of their choice.
TYPES OF ACTIONS STUDENTS CAN TAKE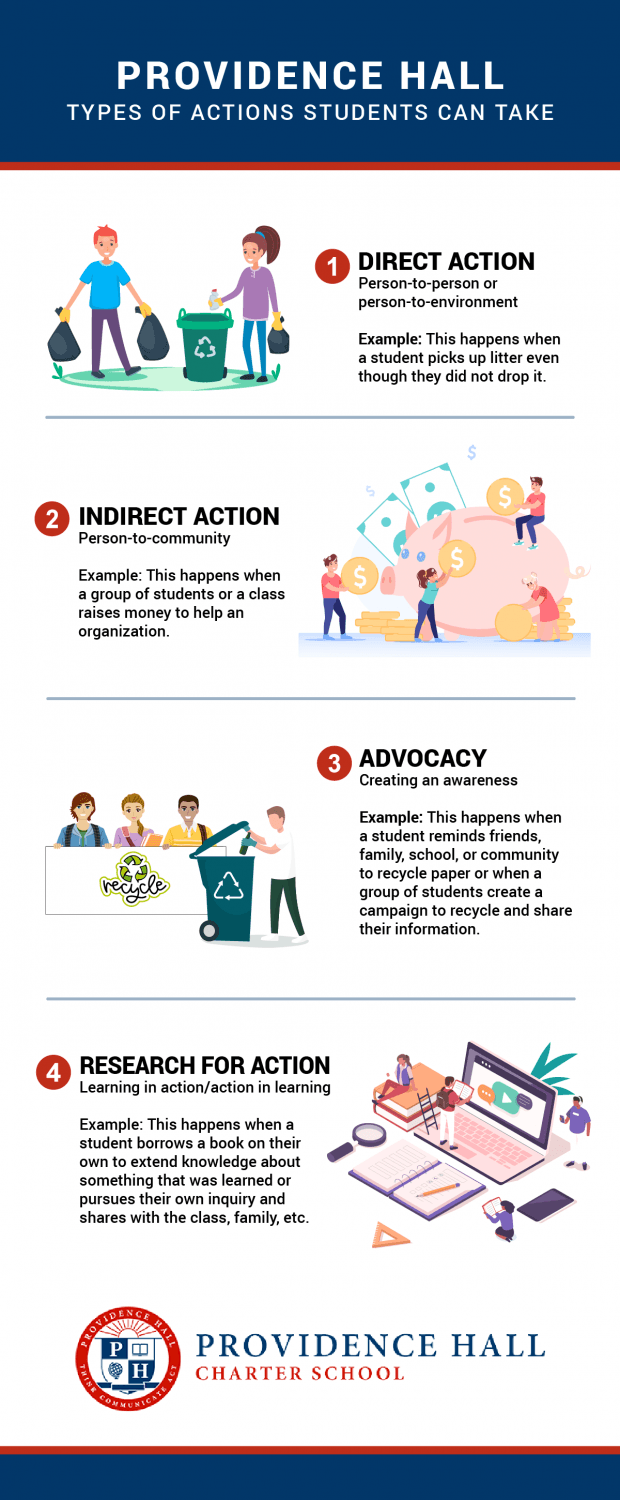 Through their project, students can grow both personally and socially. Developing skills of cooperation, problem-solving, conflict resolution, and creative and critical thinking skills.
JUNIOR HIGH COMMUNITY PROJECT
All of our junior high students get involved in a community project of their choice. All projects are self-guided and they can choose to do individual projects or work in groups of two or three. Each student or group will decide what kind of action they would like to take, do their research, create an action plan, and then go out and take that action.
We want to encourage students to do projects that have meaning to them and will directly impact their communities. Some of the projects our students have done are:
Collecting canned goods and socks for the homeless.

Picked up trash in local areas.

Create flyers and hold meetings to raise awareness about social issues.

Put up signs around our parking lots to reduce car idling.
By doing these community projects, it shows our students that positive action can create the solutions they were looking for, giving them a sense of responsibility.
BENEFITS OF STUDENT ACTION
Each junior high student is required to do a 15-hour community service project to receive their IB diploma. Both the community project and IB diploma look great on college applications and resumes.
With these projects, it is our hope that students will feel the positive impact they are making on their communities. They bring a positive influence to those around them and whenever they see an issue arise, they can take immediate action rather than sitting and accepting it.
We look forward to seeing the projects our junior high students come up with each year. If you have any questions about projects or any action or service, please feel free to reach out to Aimee Petrucci directly or contact us at (801) 727-8260.